Latest Video Reviews
Videos

Meet The Editors
eCBay Review editors are your personal guides to technology.

We give you in-depth reviews and video reviews of the latest Products and Services in the Computer World.
Product Reviews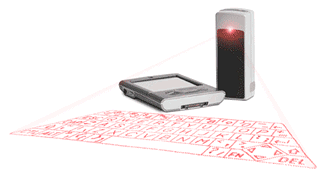 The Virtual Laser Keyboard (VKB) is the ULTIMATE new accessory for Blackberry, Smartphone and PDA owners or MAC & PC users. The VKB comes with an elegant leather jacket, making it the perfect business gift (and just what you want to take out of your inner suit pocket in front of your amazed business colleagues...
In the size of a Zipo lighter and in an outer spaced "enterprise" style, it uses a laser beam to generate a full-size perfectly OPERATING laser keyboard that smoothly connects to MAC's, Smart Phones, the new Blackberry (8100,8300,8800),Nokia N95 (Symbian Series 60 3rd Edition) and Any kind of PC and Most of the handheld devices (PDA's, tablet PC's).
The laser keyboard acts exactly like any other "ordinary" keyboard. A direction technology based on an optical recognition mechanism enables the user to tap on the projected key images, while producing real tapping sounds.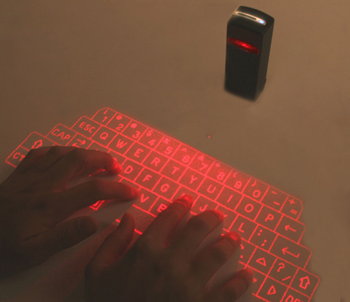 Virtual Laser Keyboard Features:
Personal Digital Assistants (PDA's)

Cellular Telephones

Laptops

Tablet PCs

Space saving Computers

Clean Rooms

Industrial Environments

Test Equipment

Sterile and Medical Environments

Transport (Air, Rail, Automotive)
More Features:
About the size of a small cellular phone, (90 x 34 x 24 mm), the VKB enables users to type texts or e-mails as easily as with a ordinary keyboard. Imagine how easy it would be, if you had a proper mobile phone keyboard that fits in your pocket...
The Virtual Keyboard uses a light projection of a full-sized computer keyboard on almost any surface. Used with PDA's and Smart Phones, the Virtual Keyboard provides a practical way to do e-mail, word processing and spreadsheet tasks, enabling users to leave laptops and computers at home.
VKB's adaptable technology studies the user's finger movements to interpret and record keystrokes. Because the virtual keyboard is an image projected by light, it disappears completely when not in use.
When using the VKB settings can be changed either via your laptop, your PC or your compatible Smartphone and PDA:
Sound: controllable Virtual Keyboard sound effects (keyclicks)

Connection: Connection to the appropriate Laptop/PC port

Intensity: Intensity of the projected Virtual Keyboard

Timeouts: coordinated timeouts to conserve the Virtual Keyboard's battery life

Sensitivity: adjustable sensitivity of the Virtual Keyboard

Auto-repeat: Allows the VKB to automatically repeat a key based on prescribed parameter
Technology at Work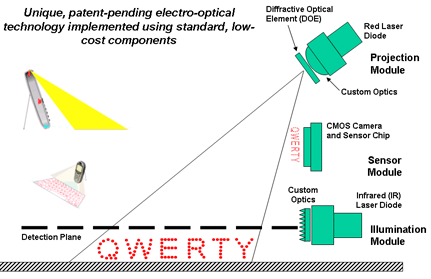 Step 1: Template creation (Projection Module)
A template of the desired interface is projected onto the adjacent interface surface. The template is produced by illuminating a specially designed, highly efficient holographic optical element with a red diode laser.
Note: the template serves only as a reference for the user and is not involved in the detection process. In a fixed environment, the template can just as easily be printed onto the interface surface.
Step 2: Reference plane illumination (Micro-illumination ModuleTM)
An infra-red plane of light is generated just above, and parallel to, the interface surface. This light is invisible to the user and hovers a few millimeters above the surface.
When the user touches a key position on the interface surface light is reflected from this plane in the vicinity of the key and directed towards the sensor module.
Step 3: Map reflection coordinates (Sensor Module)
Reflected light from user interactions with the interface surface is passed through an infra-red filter and imaged on to a CMOS image sensor in the sensor module.
Custom hardware embedded in the sensor chip (the Virtual Interface Processing CoreTM) then makes a real-time determination of the location of the reflected light.
The processing core can track multiple reflection events simultaneously and can thus support both multiple keystrokes and overlapping cursor control inputs.